China Airlines Supporting Taking Mainlanders Transiting Taiwan Around the World
Published: Feb 01, 2016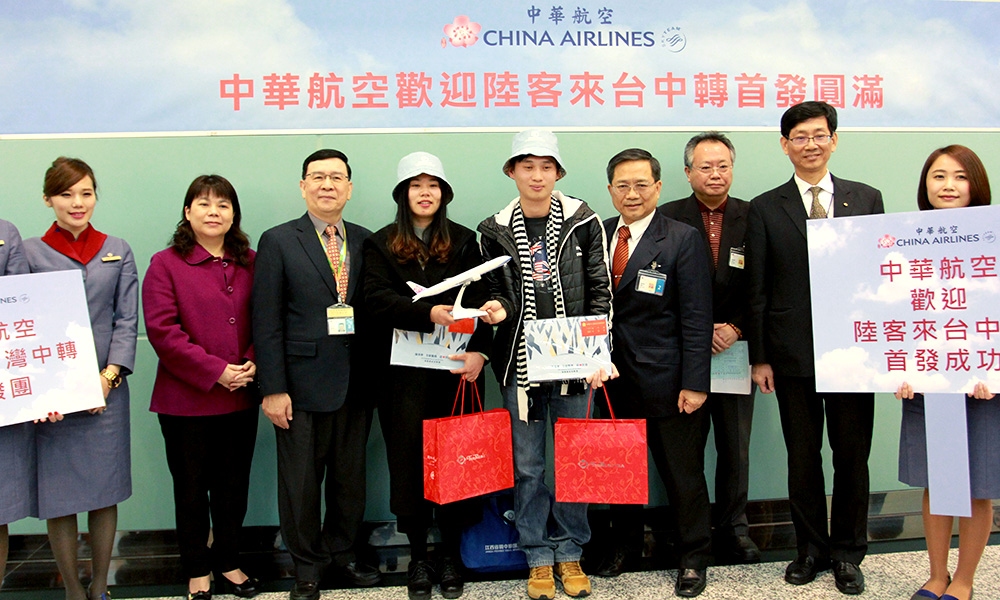 Transiting Taiwan for Mainlanders was officially approved on February 1. Three cities will take part in the pilot trial, these being Nanchang, Kunming and Chongqing. China Airlines supports this new development and will cooperate fully with government policy. China Airlines is honored to take part in this historical moment in cross-strait relations by welcoming the first batch of Mainlanders from Nanchang, Kunming and Chongqing transiting Taiwan. As deliveries of the new 777-300ER and A350 fleet continue, China Airlines is continuing to develop its cross-strait network as well as increase its capacity on European, American, and Oceanic routes. This will not only boost benefits from Mainlanders transiting Taiwan but will also hopefully lead to further expansion in the transit program.
February 1 marked the first day of the trial for Mainlanders transiting Taiwan. The first batch of transit passengers boarded China Airlines code-share flight CI 8026 operated by China Eastern Airlines from Nanchang to Taipei, and arrived at Taoyuan Airport at 10:20 in the morning. After a brief stopover without going through immigration, they departed at 13:55 in the afternoon aboard flight CI 835 from Taoyuan to Bangkok. Apart from the Nanchang passengers who were the first group to take advantage of transiting Taiwan, other passengers aboard Air China flight CA 5541 and Sichuan Airlines flight 3U8957 also flew from Chongqing and Kunming to Taipei. They then flew with China Airlines to Bangkok and Los Angeles.
Mainlanders flying with China Airlines for transiting Taiwan can check-in at the departure airport to collect a 2-stage boarding pass, tag their luggage for the ultimate destination, then fly on to Taipei; during transit at Taoyuan Airport, there is no need to go through immigration. They can transit directly to flights for North America, Australia, New Zealand, Europe and Southeast Asia. This represents great time savings for the passengers. China Airlines will soon release trial fares for Chinese passengers transiting Taiwan. Travelers wishing to learn more about the promotions for transiting Taiwan from Nanchang and other cities should inquire with China Airlines subsidiaries in Mainland China.
The China Airlines Group operates more flights between Taiwan and China than any other airline. The launch of the Yangzhou service on February 1 means its comprehensive network now includes 33 passenger destinations with 137 flights a week. Code-share flights with members of the SkyTeam alliance are also available. The comprehensive global network of China Airlines includes 119 destinations in 29 countries, allowing Chinese transit passengers to fly all over the world. This includes 6 North American destinations such as Los Angeles, San Francisco, New York, Honolulu, Guam and Vancouver.  Flight frequency will be increased for New York and Vancouver this year to bring the number of North American flights to 50 a week; the 5 destinations in Oceania including Sydney, Brisbane and Melbourne in Australia as well as Auckland and Christchurch in New Zealand are served by up to 28 flights a week; these along with the 284 flights a week to 16 destinations in Southeast Asia mean that China Airlines provides passengers with the most convenient service for onward travel. (2016/02/01)